GRANULAR insights for more accurate hotel real estate underwriting & investment due diligence
Top-line Occupancy, ADR and RevPAR are valuable but it's not enough. When an investor knows the business mix composition of the Occupancy, ADR and RevPAR as well as related cost of acquisition, underwriting can be performed more accurately. The Kalibri Labs Trendline Report enables developers, investors, brokers, lenders, appraisers and other investment professionals to look beyond traditional metrics to make more informed decisions for all activities associated with underwriting, acquisitions, development, re-positioning and more.
This Excel-based report illustrates performance for a subject hotel and/or group of hotels by month and details next-generation insights broken out by channel, rate categories or length of stay buckets. The report can also benchmark two data points such as a hotel against its competitive set for relative performance trends.
By tracking the cost of customer acquisition, Kalibri Labs reports on different forms of revenue performance, including traditional top line revenue. This focus on what guests are paying and the subsequent profit contribution provides a more accurate portrayal of performance and ultimately the subject hotel's upside or the market's position.
Details of the Benchmark & Trendline report:
Understand the subject hotel's revenue performance based on profit contribution for a more accurate portrayal of the upside potential.
*Contribution to Operating Profit and Expenses (COPE) represents the proportion of room revenue kept by a hotel property after transaction-specific direct reservation costs have been deducted.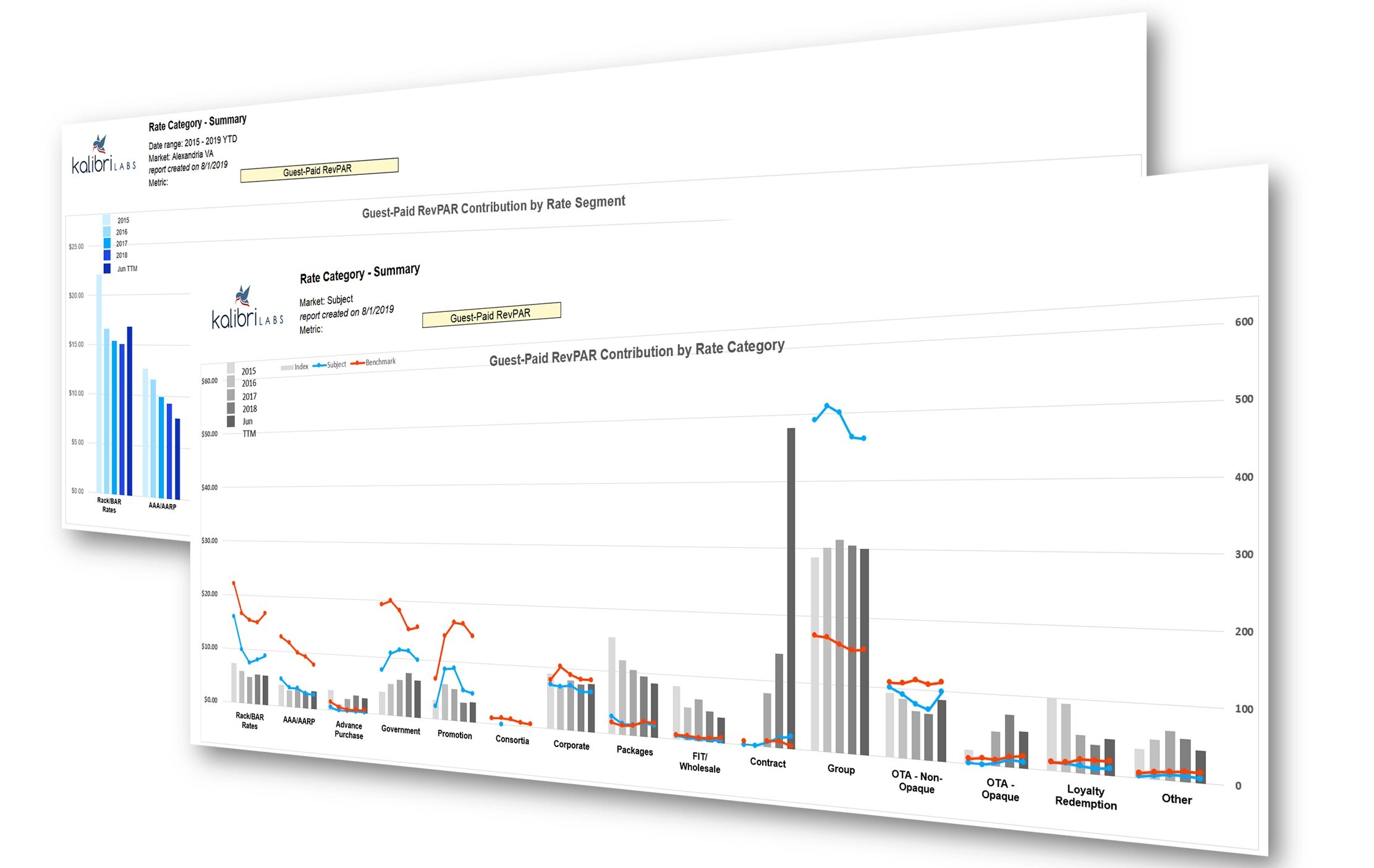 Order a Rate Category Trendline Report to analyze demand trends for certain business segments such as Crew in an Airport market or generally assessing how much corporate or government business is available.
TRENDLINE REPORT TESTIMONIALS